Welcome to brian

and

trevors
Some say they heard the best sound of music at brianandtrevors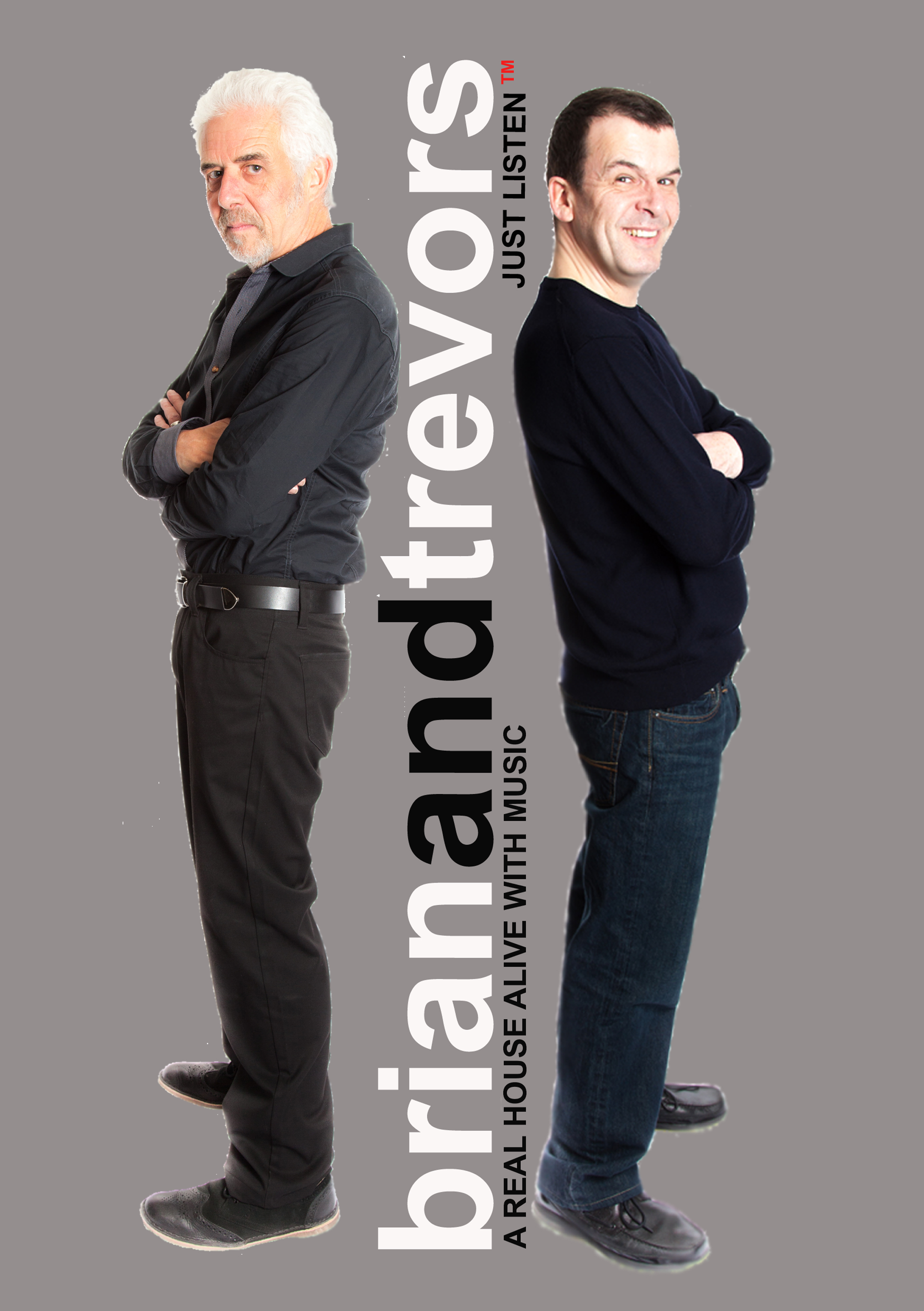 OUR HISTORY: LINN PRODUCTS, HOUSE OF LINN, BRIANANDTREVORS
We have been collectively involved in the audio industry for over forty years – Trevor working for a Specialist Hi-Fi dealer in Oxford in 1984, and Brian, joining Linn Products in 1992, meeting Trevor who had joined Linn in 1989. In 2007, we left our employment with Linn Products to set up House of Linn as an appointment-only audio consultancy, specialising exclusively, offering the range of Linn components and systems, with reference demonstrations, sales, installation, service, upgrades, advice and aftercare. 

We are Europe's Leading Linn Specialist and deliver the full customer benefits of Linn's integrated capability.
In 2009, we established brianandtrevors to offer a broader range of components and solutions we listened to extensively that are featured on this website. Brianandtrevors and House of Linn operate appointment-only from a large, comfortable Victorian house in Greater Manchester, and unlike shop dem rooms, our systems are installed in real rooms, as well as in our diner kitchen and hallways. All without compromise for the best performance to give a pretty good idea of the performance expected in any home.
Since we began our audio consultancy journey in 2007, we have enjoyed meeting more than one thousand hi-fi enthusiasts and music lovers who have contacted us for appointments from around the UK and overseas. We treat our clients in the same way we like to be treated. We are a pressure-free zone with extremely high client retention and we are regularly welcoming new visitors and clients to the house. 

We are a true Audio Consultancy offering fantastic customer service and personal appointments for hi-fi demonstrations, advice, sales, installation, service and aftercare. With more than forty years knowledge and experience, our standards and expertise are second to none. 

Talk to us for the best advice. 

Make an appointment with us for better sound and hear the difference. 
Brian and Trevor also own and run House of Linn, Europe's Leading Linn Audio Specialist established in 2007, and The Booplinth Company, designers of booplinth, the premiere plinth upgrade for the Linn LP12 turntable.
Facebook Posts
LINN KLIMAX DS UPGRADE TO KLIMAX DSM WITH EXAKT LINK CONNECTIONS

A more affordable path to owning an Exakt system - contact us for impact
prices on Exakt System purchases and upgrades.

For a limited time, we have a special offer that provides Klimax DS owners with a stepping stone towards the breakthrough performance of EXAKT.

From 1st July until 16th September 2014, there are two ways in which KLIMAX DS owners can take advantage of this offer:

1. New audio board which converts the Klimax DS into a Klimax DSM with EXAKT Link connections.

2. The new audio board upgrade can also be purchased as a package with Renew DS, which houses the original Klimax DS audio board and creates a second, fully-functional Linn DS player for use in another room.

This offer provides Klimax DS owners with an EXAKT upgrade path to a Klimax DSM with Exakt Link connections, and be Exakt-Ready.

Importantly, upgrading from Klimax DS to Klimax DSM with EXAKT Link
connections provides improved performance from all digital sources within a simpler, integrated system solution.

The upgrade cost for KLIMAX DS to KLIMAX DSM with EXAKT LINK connections is £7,800 with Renew, and £5,900 without Renew.

This is a great offer since a new Exakt-ready KDSM costs £15,580.

Full 5-year Warranty:

Linn will provide a full 5-year warranty for the upgraded Klimax DSM with Exakt Link connections and the Renew DS - the same great support that customers would receive when buying a brand new product.

Contact House of Linn now: 0161 766 4837

House of Linn takes care of the entire process:

Klimax DS players must be returned to House of Linn for factory conversion and upgrade. ... See MoreSee Less
Load more
Linn have just announced a brand new addition to their product range – The Linn Selekt DSM. Selekt DSM will revolutionise your interaction with digital music. It's a tactile and beautiful musical experience, better in every sense. It will make your system sound better and it will help you fall in love with your music…
Read More
Linn Sondek LP12 45th Anniversary 🎈 Party at House of Linn in Manchester In a world of streaming it is a sign of the times that we continue to celebrate and enjoy vinyl recordings especially with the iconic Linn Sondek LP12 Turntable, first manufactured in 1973 and now in its 45th year having continuously…
Read More
Summer 2018 Newsletter FINALLY! After so many years of disappointing summers in the UK – certainly here in the North of England – we now have a brilliant scorcher of a summer. No better time than now to be out enjoying the sunshine! As usual, we can find many good reasons to drag you back…
Read More
Join Brian and Trevor at The North West Audio Show Cranage Hall (De Vere Cranage Estate), Cheshire Saturday June 23rd 10am – 6pm Sunday June 24th 10am – 5pm This is a great audio show!! Last year as in previous years, we enjoyed welcoming many people to our room and we are of course looking…
Read More
Greetings and Happy New Year! With so many third-party "upgrades and modifications" available for the Linn Sondek LP12, it is great to see Linn further improve the LP12 yet again, with two significant proprietary upgrades. The Lingo power supply and Urika Moving Coil phono stage have set new and advanced standards for vinyl replay, currently…
Read More
Wednesday, August 16, 2017 Comment(s): 0 Uniti by Naim Inspired by Naim's unfaltering passion for music and enabled by 40 years' tireless innovation in engineering, the new Uniti range by Naim is now available – Uniti is Naim's advanced all-in-one music streaming platform. Combining seamless digital technology with a rich analogue soul, you can rip,…
Read More
The Music of Manchester Event Series The Music of Manchester is the first in a series of vinyl and streaming listening events hosted by brianandtrevors in Whitefield, North Manchester, featuring the music that helped make Manchester famous. Featuring The Smiths and Friends with photographs and talk by The Smiths' photographer Stephen Wright. Thursday October 26th,…
Read More
1. Musical Fidelity Nu-Vista 600  – Trade in any amplifier with us through November and December 2016 up to the maximum value of £1,900 – meaning the Nu-Vista 600 can be yours for as little as £3,100. Here are some example deals: – Nu-Vista 600 £4995 – Less £1900 for MF M6i – Cost to…
Read More
Linn Katalyst 4th Generation DAC Architecture Available Now in Klimax DS & Klimax DSM  We encourage you to hear what we hear and why we think Katalyst is the best DAC we have ever heard! We are the only North West Linn Specialist offering this Katalyst comparative demonstration between old and new Klimax DAC architecture.…
Read More
Buy a Melco High Resolution Digital Music Library this Autumn to collect points and choose your free gifts. When the dark nights come along enjoy your music with Melco – and by taking advantage of our Autumn promotion you can select from a range of Buffalo backup drives, CD import drive, or even get more…
Read More
Subscribe to our newsletter to receive our latest updates
Please enter a valid email address.
Something went wrong. Please check your entries and try again.