World Class sound. Naim Audio, based in Salisbury, England, have been producing the world's finest CD players, amplifiers, loudspeakers, network players and all-in-one systems since 1973.
From the sublime ND555 to the compact all in one Uniti Atom, Naim digital streamers will handle anything you throw at them, playing anything you listen to at home; from albums on your hard drive to music in the cloud.
Why Naim?
Every Naim product is conceived, designed and engineered entirely in service of the sound, revealing a pure experience of music that is as close as possible to its original live source.
Naim believe that the exploration of sound is an adventure that rewards you with a clarity and connection that becomes more powerful the deeper you travel within it. Which is why, every element within each Naim component is crafted to create a silence around the sound, reducing any interference between you and the intention of the artist.
Naim achieve this through tireless attention to four fundamentals in their engineering:
Space
Naim design and build to give each of the critical components their own environment, omitting outside or 'toxic' interference, which means no compromise on the purity of sound.
Circuitry
Naim expertise in cuircuit board layout minimises any interplay between the internal levels, so that you can simultaneously enjoy both the quiet and the loud, as originally intended.
Purposeful materiality
Naim only use materials that excel in performance, not just appearance.
Technology
Naim constantly strive for new and innovative ways to achieve their goals, integrating sophisticated electronic design and software development, with mechanical engineering and acoustics to deliver a truly advanced sonic experience.
By managing the relationship between these four pillars of engineering, Naim's listeners can hear every single note in equal measure and transcend from audio sound to musical performance. Naim call this unique and emotive transmission the 'Voice of Naim'; it's their signature, their calling card.
This 'voice' has been carefully engineered across the product portfolio and crafted to take you the listener deeper through this journey into music, from the excellent entry-level Mu-so wireless range, through to the ultimate listening investment in Naim's 'Marque' separates - Classic, 500 and Statement, their flagship amplification system.
Let the voice of Naim take you inside the music… Go Deeper.
Naim ND 555 Digital Streamer
Pure musicality with Naim's most advanced streaming platform, the ND555 is Naim's reference network player .
It's quite simply the best source component Naim have ever developed.
Drawing on decades of digital and analogue engineering experience, the ND 555 marries an innovative new streaming platform with classic Naim analogue technology.
It features a 40-bit SHARC processor with advanced signal processing, a suspended brass sub-chassis to isolate sound-critical circuits from vibrations and the best external power supply Naim have ever made. Whether you're listening to Bonham's solid groove or Coltrane's dizzying scales, the ND 555 lets the music flow with astonishing ease and uniquely engaging musicality.
Naim NDX 2 Digital Streamer
With its world-class performance, the versatile and upgradable NDX 2 embodies the current state of the art.
A host of features such as high-res UPnPTM streaming, AirPlay, Chromecast built-in, Bluetooth (aptX HD), Spotify Connect, TIDAL, Roon compatibility, vTuner internet radio and multiroom streaming as well as digital and USB inputs provide all the connectivity you could wish for.
Naim's main focus in developing the NDX 2 network player, however, was its performance. Along with Naim's bespoke streaming platform, Naim implemented an upgraded DAC and discrete analogue stages. These and numerous other improvements over its acclaimed predecessor make the NDX 2 a sonic force to be reckoned with, offering highly immersive and lively replay quality.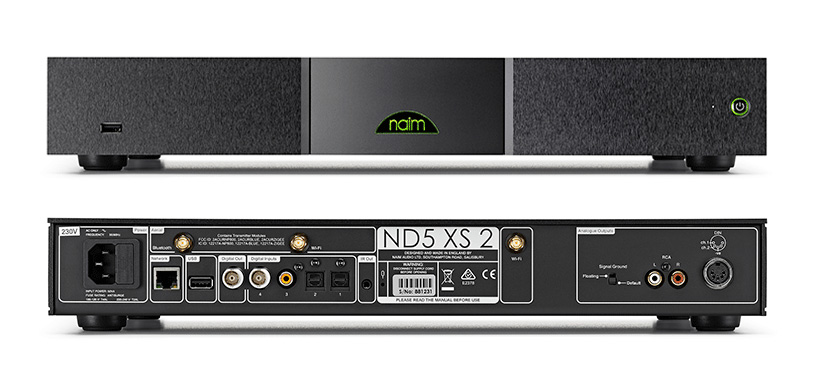 Naim ND5 XS2 Digital Streamer
The ND5 XS 2 uses Naim's innovative new streaming platform with an expanded feature set.
High-res UPnP™ streaming, AirPlay, Chromecast built-in, Bluetooth (apt X HD), Spotify Connect, TIDAL, Roon compatibility, internet radio and multiroom streaming – alongside digital and USB inputs for conventional connections – make this versatile player the ideal partner for any quality audio system.
Carefully selected and matched parts, an oversized toroidal transformer, along with decoupled PCB boards - the ND5 XS 2 benefits from classic Naim engineering and fastidious attention to detail to ensure that it delivers natural, engaging sound quality from all it's on board sources.
Naim NAC-N 272 Streaming Preamplifier
The NAC-N 272 combines Naim's latest innovations in digital audio technology with classic analogue preamplifier engineering. It samples the best of both worlds to create an immensely musical hi-fi system.
Paired with a NAP 200, NAP 250 or even a NAP 300 power amplifier, the 272 is an ideal choice for those seeking the convenience of a single box streaming system with iOS and Android app control, but that crave hi-fi separates performance. It boasts an impressive array of inputs including high-resolution (up to 24bit/192kHz) UPnPTM streaming, Spotify Connect, iRadio, Bluetooth (aptX), USB, multiroom, TIDAL music streaming support and an optional DAB/FM module.
Six digital and three analogue inputs cover integration with a wide range of sources from CD and games consoles to phonostages. It's also performance upgradable with the addition of a Naim Audio XP5 XS, XPS or 555 PS power supply.
All this functionality does not come at the cost of performance. The 272 has been carefully designed and meticulously hand-crafted to deliver a completely immersive and awe-inspiring music experience.