Boenicke Audio was founded in 1998.
There are many reasons why Boenicke Audio speakers are truly unique and exceptional. Boenicke one of  the few companies who build their loudspeakers from solid wood.
Why natural wood? The answer is very simple. First, if you mount a driver to a certain mass such as solid wood, MDF or aluminium, the inherent properties of that material will strongly affect how the driver sounds. This is a fact either virtually nobody seems to know about it or cares to respect for its consequences when designing a driver or loudspeaker. It seems evident that a body of solid wood with a thin coating of oil will resonate in a more natural way than the same body made from MDF then coated in shiny impervious plastic proudly sold as polyester lacquer.
Boenicke Audio W5 Loudspeaker
Standing just 293 mm tall and 104 mm wide, the W5 doesn'timpose itself on any listening space.
Once you listen, you'll be hooked on just how big the little W5 sounds.
Boasting just 2.8 L of cabinet volume, the W5 really shouldn't fill your listening space with such grace and ease.
Deep and authentic bass comes from a driver capable of 18.5 mm of excursion.
A liquid and lucid midrange with an accurate top end emanates from our 3'' widebander made to spec just for Boenicke Audio.
The ambient rear tweeter complements the main drive units and augmented by premium silk-wrapped Litz hookup wiring and WBT NextGen binding posts, this is a very grown-up little speaker.
Expect the usual Boenicke soundstaging as breathtaking as any vast landscape, a liquid midrange, accurate tone and harmonics which combine to connect you to your music in a way that defies what you thought possible.
Boenicke Audio W8 Loudspeaker
The W8 is the first floorstander in the Boenicke Audio range.
Note how the design aspects flow from the little W5 into the side-firing woofer and widebander to which the W8 adds a dedicated midrange and larger ambient tweeter.
The midrange driver is custom and sports an apple tree phase plug and maple cone on the back of the magnet.
Expect deeper and more plentiful bass with the ability to fill most domestic listening spaces.
Listening to the W8 for the first time is finally hearing your favourite musicians as living entities within your listening space and no longer as two-dimensional cut-outs.
The magic of individuals playing together to create a performance is laid bare by the W8 as an experience you will enjoy each time you listen.
Boenicke Audio W11 Loudspeaker
The W11 cabinet size gives it real sonic advantages and allows the solid wood's beauty to truly shine.
Crafted for those with larger listening spaces, W11 takes the emotive performance of the W5 / W8 to a new level.
The carbon-fibre honeycomb woofer adds a new bass dimension.
Fine adjustments to it can be made to ensure room-tailored performance courtesy of a super high-quality autoformer providing 2.5 dB increments of cut / boost.
The custom wood-cone mid / woofer renders textures in instruments so real that you will reach out to touch what isn't physically present.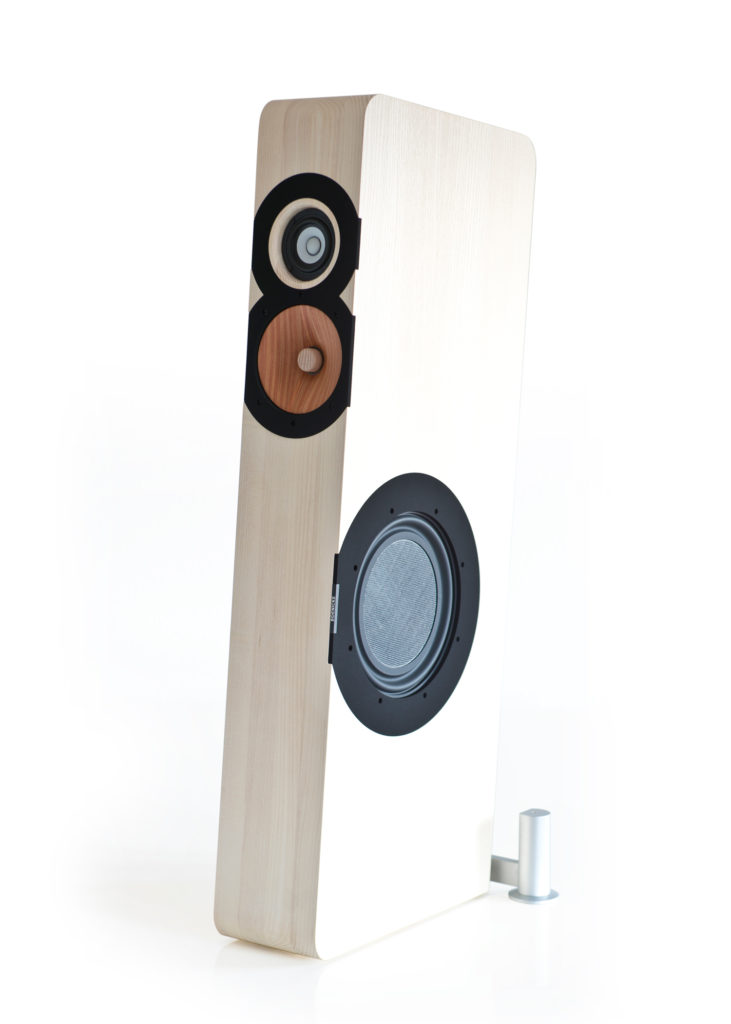 Boenicke Audio W13 Loudspeaker
The W13 is the current flagship of the W range.
While appearing similar to the W11, like with all Boenicke models there's more than meets the eye.
Utilising an active bass array with balanced-force woofers and programable DSP settings radically changes perceptions of bass
performance for a home audio speaker.
Each aspect of the W13 improves over the other models and Sven uses all available tuning tricks to take performance to unprecedented levels.
The result is a speaker that pulls on your heartstrings, excites and wows and ultimately lets you hear deep into the soul of the musicians you have chosen to share your space with.
A few loudspeakers can offer breathtaking imaging, texture and realism or rhythm and timing. None can combine all of these qualities as cohesively and convincingly as the W13.
As a speaker, it truly fulfils the design ethos and desire of Sven Boenicke to not just to listen but to feel; To Feel It All.
Boenicke Audio W5 Loudspeaker
Boenicke Audio W8 Loudspeaker
Boenicke Audio W11 Loudspeaker
Boenicke Audio W13 Loudspeaker
Complete the form below or call to arrange a demonstration