Silent Angel Hi-Fi Digital Audio Source System
Designed as an excellent and affordable alternative to using a PC or laptop as a music player.
Two Silent Angel designs deliver a true Hi-Fi audio experience.
Silent Angel produce their own VitOS Orbitor App for both IOS and Android devices.
The Munich is available in two versions, the M1T streaming transport only model, at and the M1 streamer with DAC.
With more streaming services now publishing lossless and high resolution music, Munich is an affordable way to hear the difference away from the noisy computer environment polluting the listening experience.
Silent Angel Munich M1 and M1T are built to deliver a better sound quality, specifically designed as an excellent and affordable alternative to using a PC or laptop as a music player.
Silent Angel M1 is an extremely compact digital audio hi-fi source, perfect for small room systems, home office and desk-based systems - upgradeable for even better perfomance with the Silent Angel Bonn N1 Audiophile Network Switch and Forester F1 Linear Power Supply. (see below)
Silent Angel Munich M1
For use as a network music player. Hi-Fi network music streamer with built-in DAC & Headphone Amp and digital and analogue outputs.
Silent Angel Munich M1T
For use with an external DAC. Hi-Fi network media transport with enriched digital audio outputs to integrate external DAC, digital outputs only for external DAC.
Silent Angel offers a quieter environment for music playback than a PC or laptop to reveal more of the music.
Fan-less main board with specialized heat-sink and EMI absorber embedded to eliminate mechanical & electronic noise.
Equipped with AES/EBU, I2S, Coxial, USB Audio for digital audio; RCA (L+R) and 6.35 mm headphone jack for analog audio; 1000Mbps Ethernet works well with NAS (Network Attached Storage) and high-speed network streaming applications.
Optimized Audio Processing Circuit
Expert Main Board Design
Fan-less cooling system with specialized heat-sink to lower 20˚C working temperature, and high-permeability EMI absober to remove any possible electronic interference.
Powerful Audio Processing System
Adopting CPU (4 Cores 1.5GHz ARM Cortex-A72); DRAM (Low-noise DDR4); ROM (High-speed 32GB Flash), devoted to only processing lossless music data.
VitOS Orbiter APP: locate, control and stream music.
Mobile app for iPhone and Android devices.
Discover and configure the home network settings and locate NAS hard drives.
Install and manage add-on packages on VitOS, including Roon Server (Roon Core and Roon Bridge), Spotify Connect, DLNA renderer & server, Airplay, and Orbiter Plug-in.
Back up the stored music files to an external USB hard drive by Music Backup feature.
Firmware updates.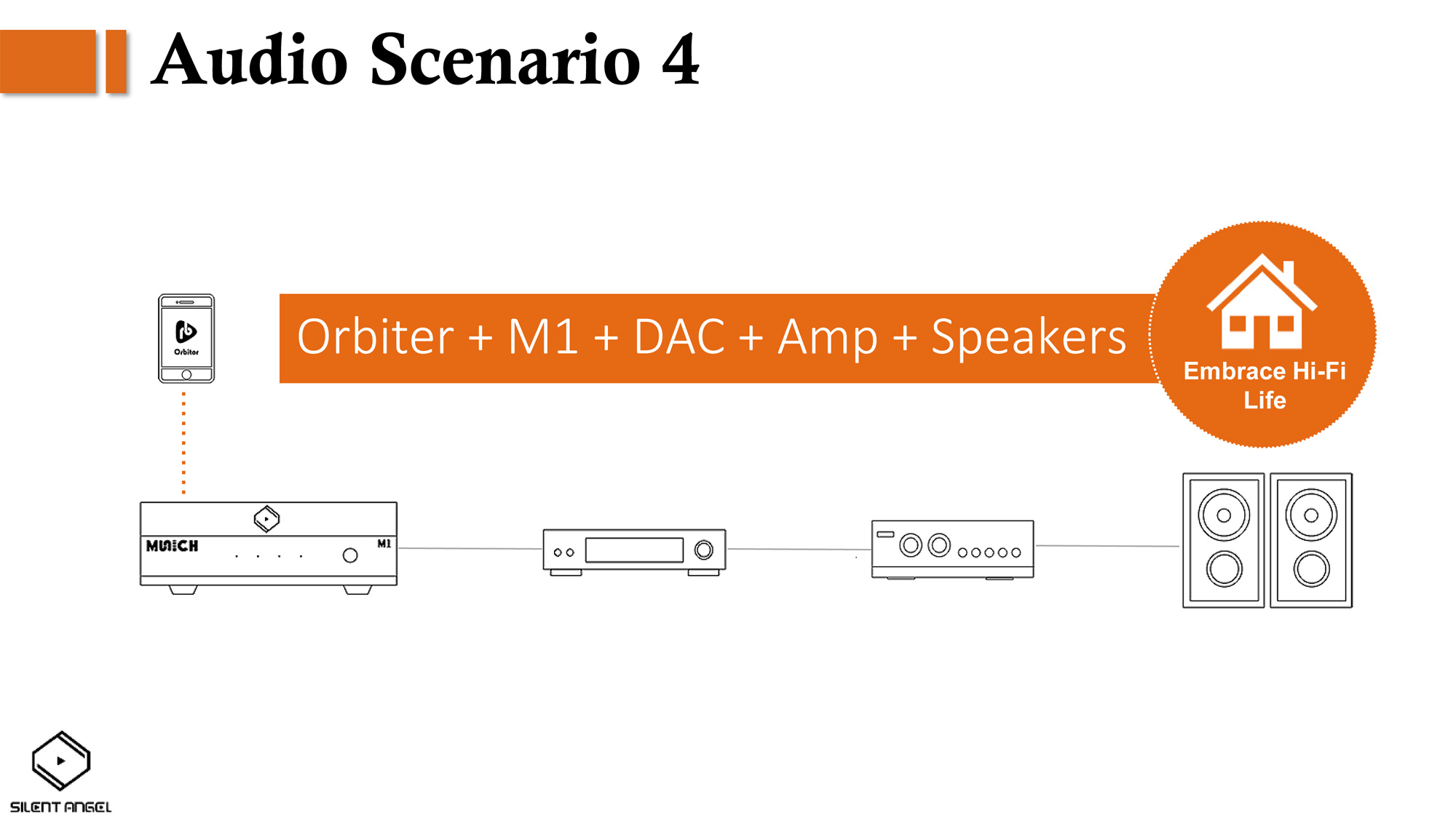 Contact us for further information or to request a demonstration.