Luxman Corporation
Luxman were founded way back in 1925 at the birth of radio broadcasting.
Since then Luxman have continued to make a range of audio equipment to suit both the music enthusiast and audio fan alike - producing some of the most technically advanced and sonically proficient Japanese audio components available.
The Luxman Corporation is still in business today  - making them one of the longest standing audio manufacturers in existence.
As always - Luxman products are in great demand and as a result there may be a small delay in delivery of brand new product so please do contact us for our very best price and we will do our best to get your new Luxman CD player to you as quick as possible!
Luxman D-03X CD Player
---
New for 2022 - The D-03X embodies the most advanced digital decoding along with the most enduring approaches to design and engineering.
Luxman's D-03X combines traditional red-book CD playback with an advanced hi-res DAC circuit featuring MQA full decoding.
Of crucial importance, the D-03X inherits the philosophy and experience of successive Luxman digital players and remains true to timeless Luxman design principles, including rugged chassis, oversized power supply and meticulous circuit selection.
The result is a reproduction of effortless musicality.
Luxman D-10X CD Player
---
Welcome to the ultimate expression of musicality.
Luxman's flagship SACD/CD player, the D-10X builds on the brilliant heritage of their acclaimed D-08u, adding more playback capabilities, the latest conversion technology, a robustly reinforced mechanism and a refined analog output stage.
Introducing LxDTM-i – the Luxman original Disc Transport Mechanism which has been much improved for better data integriry and quieter operation.
Also new is the ROHM Semiconductor MUS-IC™ BD34301EKV digital-to-analog converter again for better musical performance.
Introducing ODNF-u – Only Distortion Negative Feedback (ultimate) – in a fully balanced output amplifier opens the curtain on the ultimate soundstage.
Luxman D-N150
---
The D-N150 is part of Luxmans's NeoClassico II Series, the compact D-N150 combines uncompromising audiophile design with exceptional flexibility.
Audio quality techniques a include 5mm thick aluminium chassis and internal parts selected through exhaustive listening tests.
Flexibility takes the form of coax, optical and USB digital inputs for converting hi-res audio files to gorgeous, unconstrained analog sound.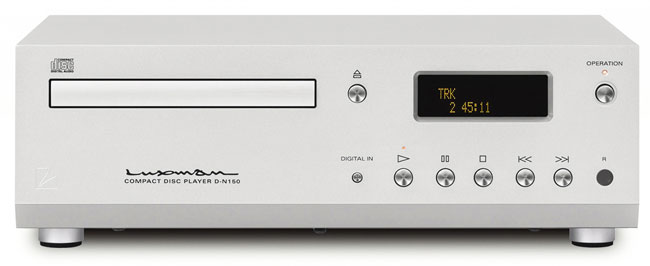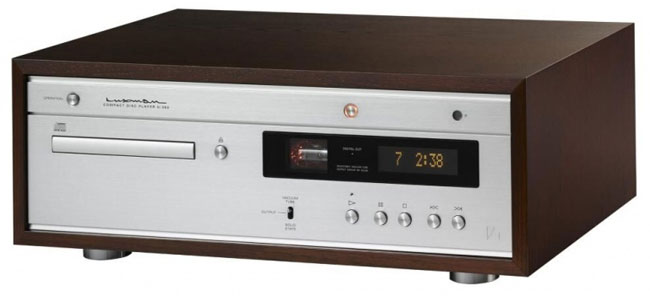 Luxman D-380 Vacuum Tube CD Player
---
The D-380 is a digital CD player that can also play music through the vacuum tube output and which bears the number '38' – a number synonymous with the golden era of Luxman vacuum tube amplifiers.
This player features a vacuum tube output consisting of a buffer circuit using ECC82 vacuum tube and a dedicated transformer as well as an advanced digital circuit with a 32-bit compatible DAC and a jitter reduction IC.
The D-380 is housed in a classical wooden box and enhances the enjoyment of listening to CD's for the many fans of music played through this mature music medium.
The best of both worlds?