Keith Monks Prodigy Plus Record Cleaning Machine
 The Keith Monks Prodigy is a neat and practical solution to the age-old problem of cleaning vinyl.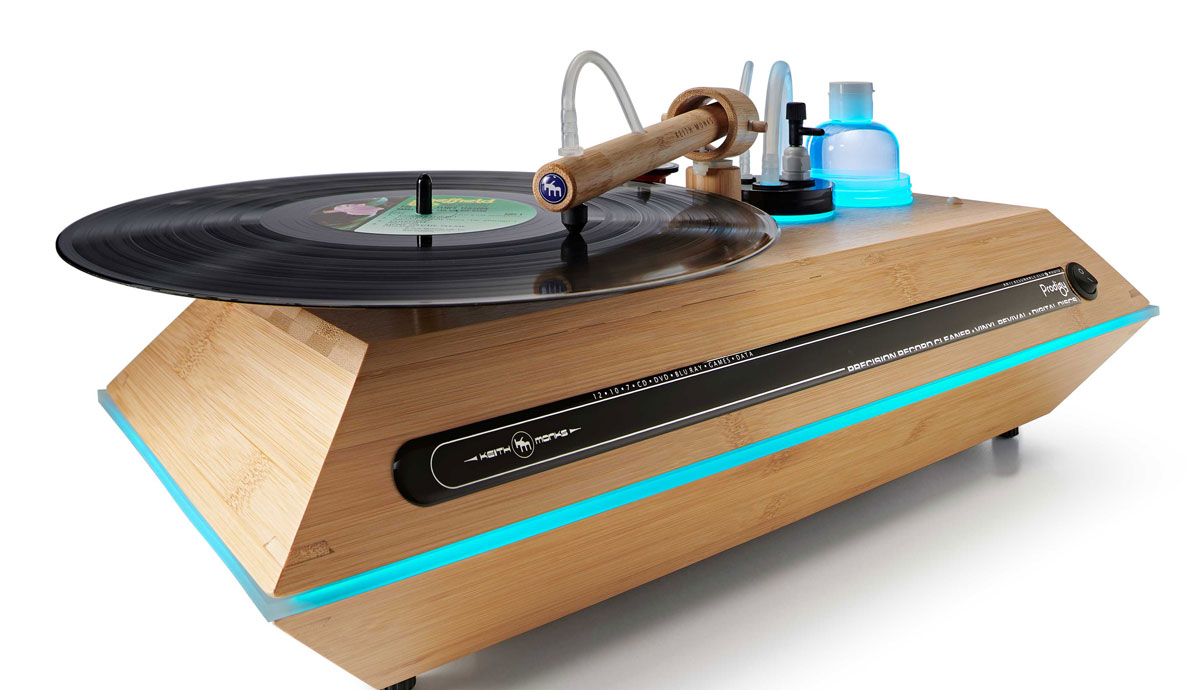 The way Professionals do it - miniaturised.
Breaking the price barrier for Precision Record Cleaning, the Prodigy Plus record cleaning machine provides a super effective way to clean records as well as your digital discs! Perfect in even the smallest home or store, the Prodigy Plus is simple to operate, speedy and ultra-silent in operation making it living room friendly.
Universal disc cleaner
The Prodigy Plus is the first electric cleaner for both analogue records and 5" digital media. The Prodigy Plus washes and vacuums all of your discs: 12", 10", 7" Vinyl Revival plus CD, DVD, Blu Ray, games, data and more and is supplied with a universal power supply for use worldwide.
Threadless point suction
Keith Monks Prodigy Plus has no buffer thread for the suction nozzle,  which gives it an enhanced 360 degree fluid pickup capability - double the fluid pickup for even drier records and no thread to replace!
There's even no set-up - straight out of the box and clean!
Eco-friendly - with style
The Keith Monks Prodigy Plus has a living room friendly, eco friendly compact bamboo cabinet and hardware. Bamboo is naturally low in resonance, noise absorbing, anti-static, moisture resistant, robust, hard wearing, and looks pretty good too. The natural bamboo finish of every unit is unique. There's even attractive diffused RGB LED illumination, the Prodigy Plus really is totally unique in its design.
Why precision cleaning?
The Prodigy's precision cleaning technique alleviates worries from wet pads or build up of oils in fluid tanks - it's the only cleaning process that guarantees zerorecontamination - every record, every time.
...and its quiet to use too - enjoy listening to the record you just cleaned - while cleaning the next!
Why buy a Keith Monks?
Keith Monks, the original inventors of electric record cleaning, have been experts in the restoration and preservation of all records for over half a century. Keith Monks use the State of the Art process, developed with the BBC, and trusted by the world's greatest archives. This is the only system approved by the British Library and US Library of Congress.
Unlock and reveal the true sound and high value hidden deep within your record grooves. Transform your system and listening pleasure with a sound filled with warmth, quietness, and awe inspiring clarity. Restore and preserve ALL your precious records - new as well as vintage - to Archive Standard.
Cleans records as well as digital discs
Super silent operation
Smallest 55 x 22cm / 21" x 9" footprint
Both sides of an LP cleaned in under 5 minutes
Gentle, precise, safe cleaning - one turn at a time
Eco-friendly bamboo cabinet
Remote-controlled RGB lighting
Keith Monks Ecoroller microfibre washing wand in retractable bamboo tube case with lid cap
Keith Monks discOvery 33/45 Natural Precision Record Cleaning Fluid, 250ml for around 100 LPs
Rubber turntable spindle clamp for record label, also doubles as CD-DVD-Blu Ray adaptor
45 adaptor ring for 7" records
IR remote handset for interior RGB lighting with auto/manual colour selection (and if you prefer, Off button !)
Premium high power 12V in line power supply for worldwide use
Robust protective bamboo lid dust cover for main unit.