Performance audio isolation....
A simple, sophisticated range of configurable performance audio stands and isolation components with a pleasing visual aesthetic.
LATERAL audio brings together a long term passion for audio and a profession of premium product engineering design to create musical audio.
An audio system is a harmonious and total balance of products from the wall power socket through to the audio speakers.
To achieve the highest possible performance of your system, a performace audio stand is fundamental...why ?
For an audio component to perform at it's best and with musicality, it requires a very low noise audio surface to support it, mitigating against excessive vibration and damaging resonances reaching the player's components within.
Easily heard within a few seconds of a demonstration, and yet is often forgotten when listening to the audio system.
Throughout our stand and isolation ranges we employ design and technical principles to achieve the highest performance: premium materials, energy dissipation techniques, low noise and low energy components, stable and symmetrical designs, with resonance control throughout.....resulting in fast transient and low noise designs.
The product range compliments a range of system styles and price points all the way to large esoteric and enthusiast systems.
LAS-CC and LAS-CP in the Isolation Geometry series brings further setup improvements for more a musical audio performance.
Lateral is designed and made in the UK.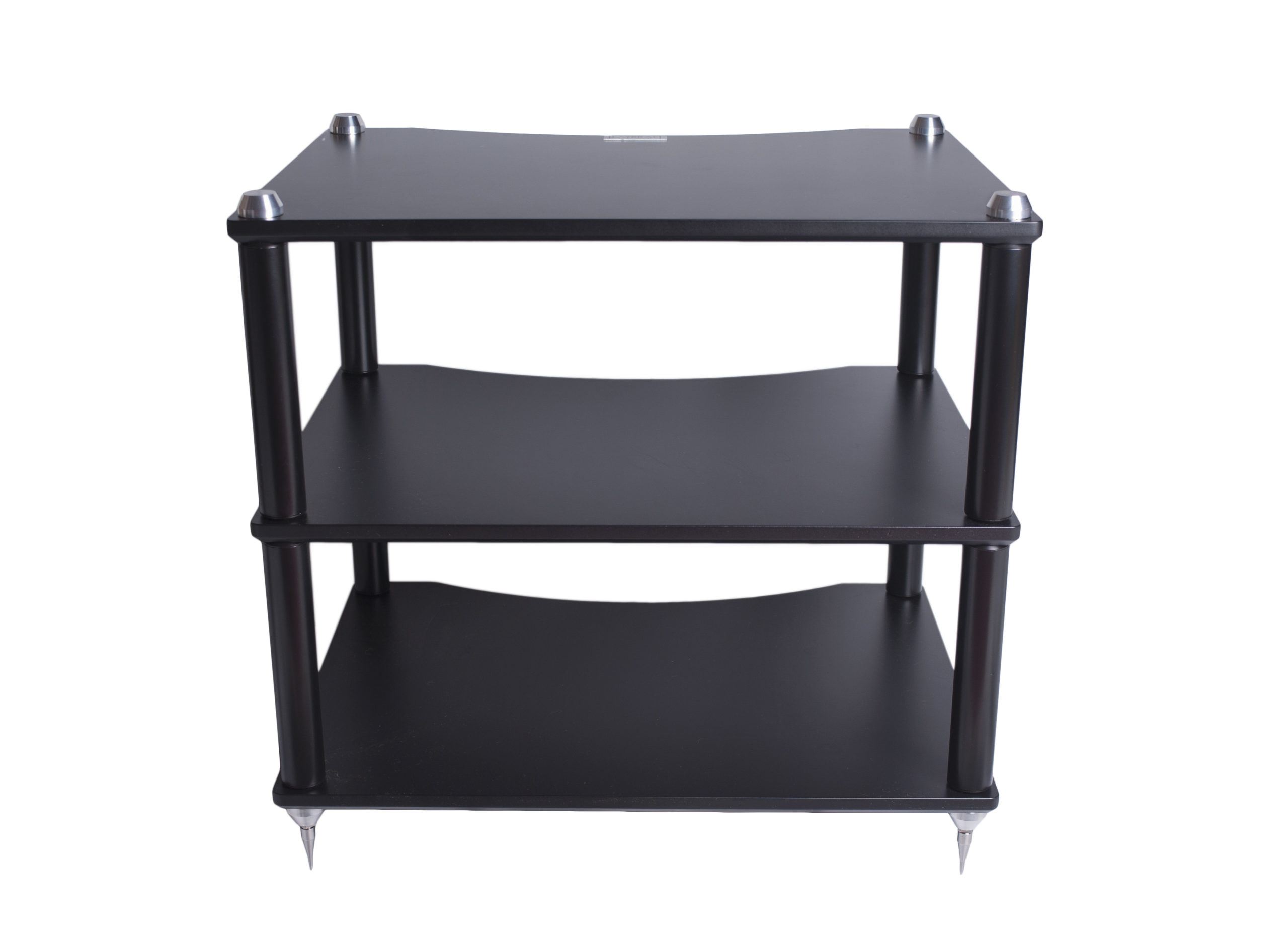 LAS-9 Cadenz is a performance audio stand.
Modular and designed for modern audio systems, it uses techniques that reduce and dissipate energy away from the audio player, enabling a new audio performance from your system.
Audio components require a very quiet 'low noise' audio surface to perform near their full potential. To achieve this, the Cadenz audio surface employs a vibration absorbing 'Dissipation Array' coupled with important areas of weight reduction.
The design and performance of the Cadenz stand enables a deep, wide and rich stereo image. Music is allowed to breathe with a mid range which is open and spacious.
Test systems easily proved their potential with Cadenz, displaying a capability which was beyond it's price range.
Choose from four spacings to allow a variety of height options, 2 tier to 5 tier.
120mm
160mm
220mm
280mm
Options:
Black low sheen finish
White high sheen finish (please enquire)
LAS-Counterpoint Spikes (shown in the main image)
LAS-Counterpoint Full set (spikes and floor protectors)
Upgrade options:
Counterpoint Spikes
LAS-CC
Weight capacity
Bottom tier: 35 Kg
Upper tiers: 25 Kg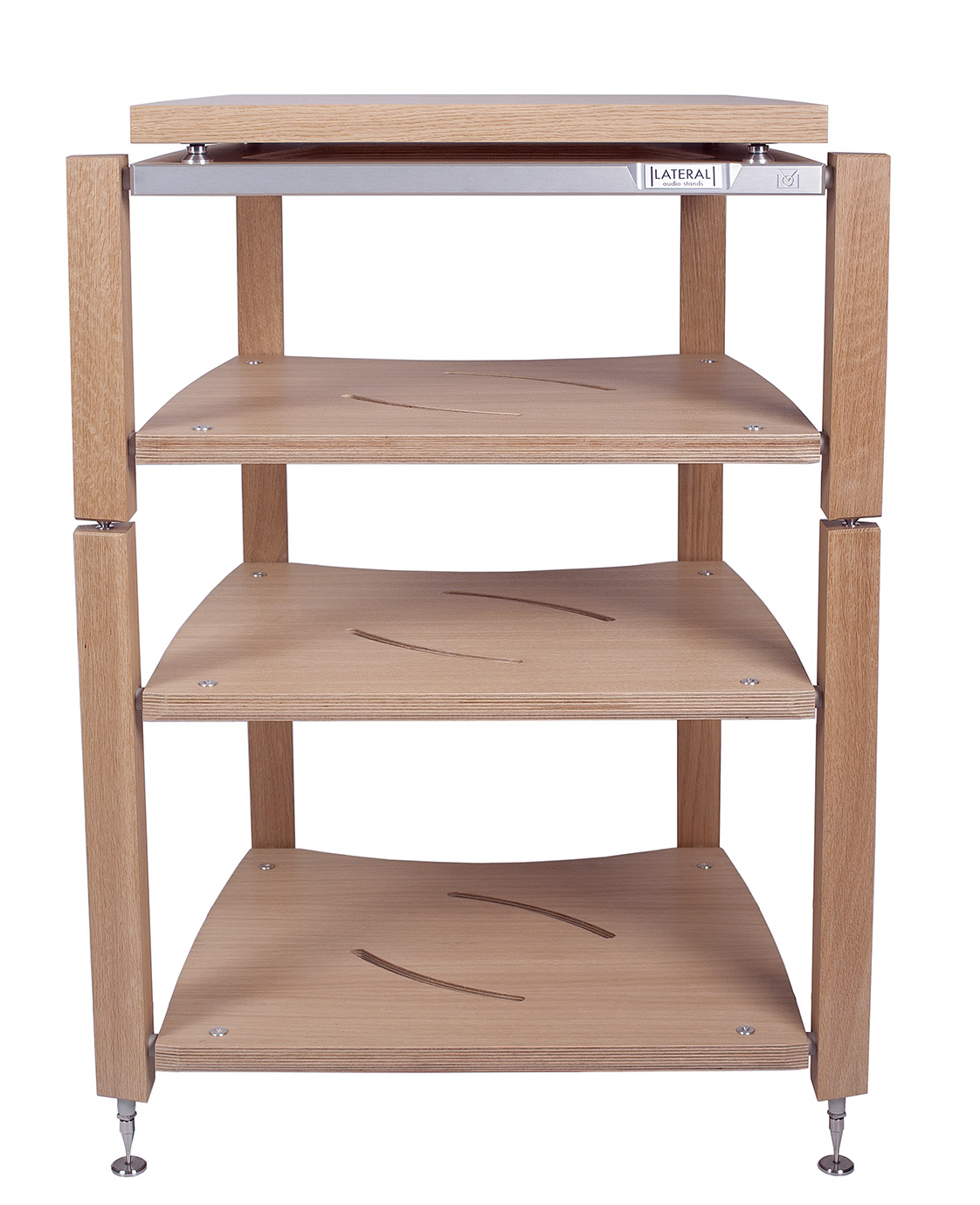 The LAS-4 Concert is the highest performing stand of the LAS-4 series,
Minimal in it's design, it is fully optimised for sound quality and finished with a CNC machined aluminium facia.
Designed with a unique structure, the LAS-4 series' audio surfaces are held from the sides - Lateral. With premium materials and veneers each audio surface has a fast transient and low noise design.
The LAS-4 Concert also employs a DCP Concert platform for your primary source player. The DCP Concert platform is a high performance audio surface and contains vibration reduction and dissipation techniques within.
Connecting directly into the low energy contacts of the sub-tier below it obtains a great audio performance from the player.
Additional DCP Concert platforms can then be added for the benefit of the lower tier players, particularly useful at extracting the highest performance from key components: sensitive source players, DACs and pre-amplifiers.
For heavy turntables and player combinations on the top tiers, select the HC 'high capacity' option which allows the LAS-4 to support 50Kg players on the top tiers.
The 500mm and 630mm leg length are excellent for multi stand setups.
The 780mm and 4T & 5T leg options allow multi-component setups and create a higher stand.
Images shows LAS-4 Concert 4T with silver anodised aluminium facia with Counterpoint feet set as standard.
Reviewed Hi-Fi+ issue 173
Winner Hi-Fi+ Awards 2019 - Accessory
Options:
Silver or black anodised aluminium facia
HC 'high capacity'
Black Satin finish
Black Concert platform
Bespoke spacings (please contact us)
Upgrade Paths:
DCP Concert platform (additional)
LAS-CC
LAS-CF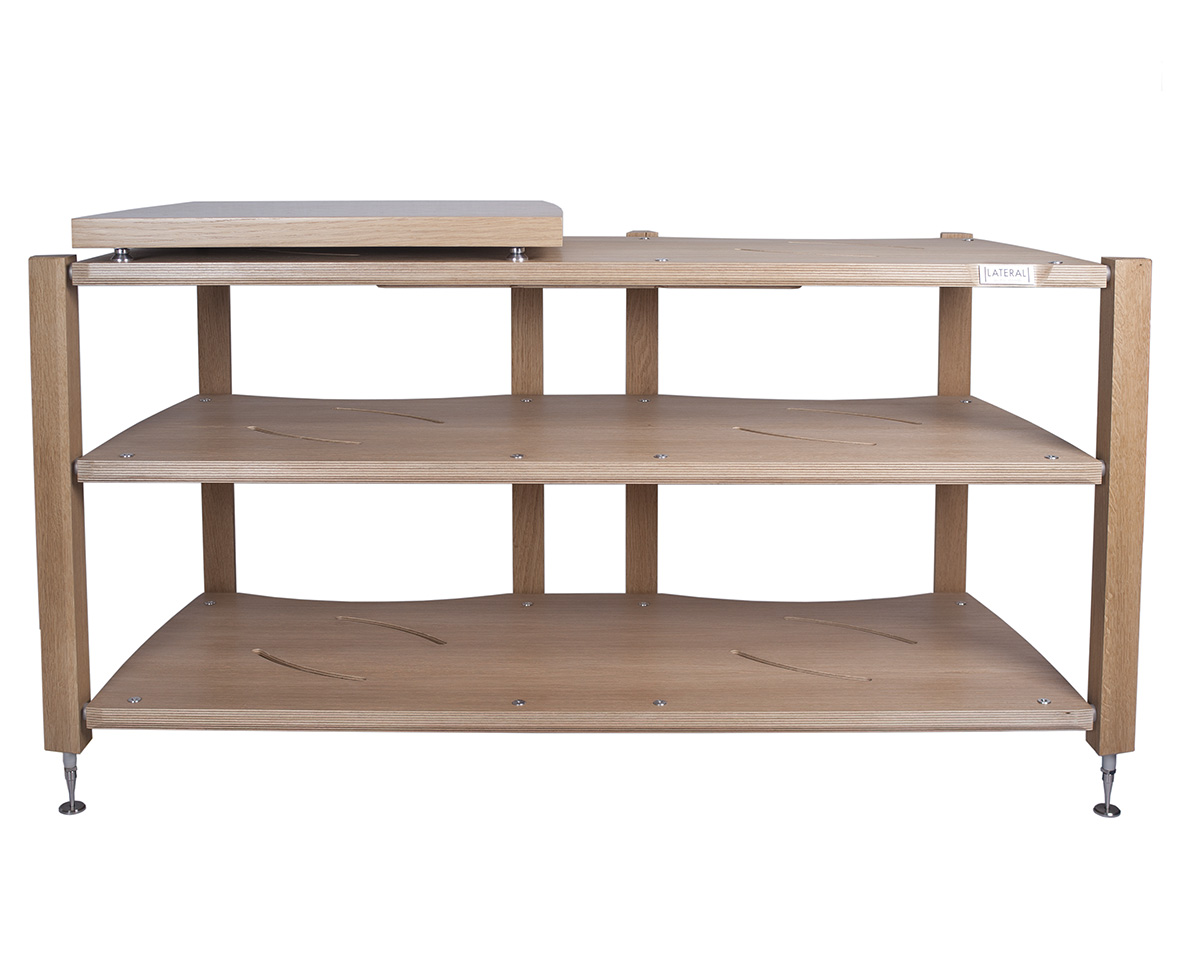 The LAS-AV is a continuation of the LAS-4 series, with the same unique structure, design and with premium materials used throughout.
It was important that an AV design maintained the performance of the LAS-4 range. It has a 100% open front design for full component access and visually clean lines, with technical features that make this possible.
DCP platforms can be added in every component position on the AV1140.
Image shows- LAS-AV 1140 shown with Counterpoint feet as standard, and an optional DCP Concert platform.
Available widths
AV980 (please contact us)
AV1140
Options:
HC 'heavy capacity' - 50Kg components (please contact us)
Black Satin
No logo
Upgrade Options:
DCP Concert platform
LAS-CC
For sizes and weight capacity please refer to the product diagram
Lateral Amplifier Isolation Platforms

LAS-Amp XM is an exciting new audio stand for mono and stereo amplifiers, available in VM, XM and ZM sizes. Performance gains are instantly heard with purely analogue amplifiers and digital amplifiers alike.
The audio surface which is low noise, strong and minimal, is precisely held at each corner by the LAS-CF 'Contact Floor'. LAS-CF provides the required stability and extremely low vibrational contact to the floor. Within it's fully machined design is a singular contact which is entirely dampened and isolated from the incoming floor energy, yet it's design is also high in weight capacity.
Available in three sizes to cater for various amplifier types.
VM- Valve mono/stero
XM- Large mono/stereo
ZM- Extreme mono/stereo
LAS-Amp VM - valve mono 280(w) x 480(d)
LAS-Amp XM - large mono 440(w) x 465(d)
LAS-Amp ZM - extreme mono 460(w) x 550(d)
Weight capacity - 85 kg
Finish Options: natural satin / black satin
Upgrade Options:
LAS-CC 
Isolation Geometry Series:
Hear the highest levels of audio with the combination of a performance audio stand, and the key placement of the Isolation Geometry Series- DCP, LAS-CC, LAS-CP.
Audio performances are presented which are purely more musical, communicated with emotion, dynamics, and speed.
Isolating the audio player enables a completely new level of audio performance.
Placed directly to the underside of the audio component LAS-CC dramatically reduces the damaging effects of surface vibration and energy feedback.
From our research it is clear that the highest performance levels are achieved when LAS-CC are used with a performance audio stand, with LAS-CC enabling higher levels of performance from key components.
Alternatively, LAS-CC can provide a significant performance step up for key audio components earlier in your audio journey, and where a performance audio stand may not always be possible in the home environment.
There is a balance of sound to LAS-CC, and this was developed with extensive listening, both here and with a number of reference systems at respected high end dealers in the UK and the US.
Dimensions: 32mm height , 38mm diameter
Supplied in sets of 3 or 4 - weight capacity 60 Kg and 80 Kg respectively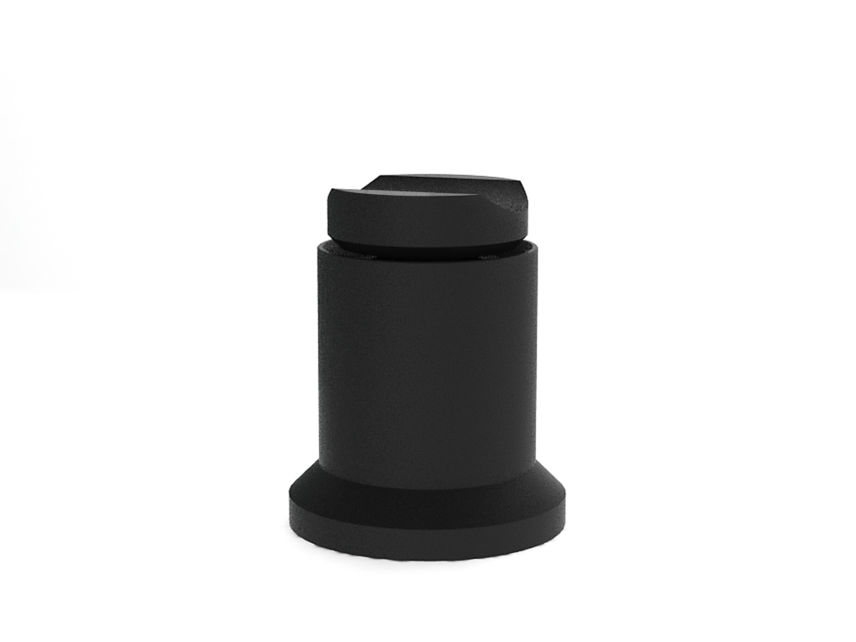 LAS-CP Cable Path
Elevating speaker cables away from the vibration of the floor, enhances the sound quality. More fluidity, ease and depth of the sound are heard.
Vibration which emanates from the loudspeakers degrades the performance of all speaker cables, and LAS-CP increases performance by providing a very quiet support.
Base diameter 55mm
Cable lift height 63mm 2.5"
Upto 40mm diameter cable

With the addition of DCP Direct Contact Platforms owners of LAS-4 Concert/Integral and LAS-AV, are able to realise high end performance possibilities.
(Concert stands are equipped with a top tier DCP platform as standard)
DCP Concert platforms connect directly into the unique structure of the LAS-4 series.
With each tier capable of accepting a DCP platform it can be placed for the most sensitive component in an audio system: typically CD transport, DAC and pre-amp.