Sugden Audio - Rescuing Music from Technology
Sugden Audio was founded by James Edward Sugden in 1967, a division of Research Electronics. Research Electronics manufactured scientific instruments and test equipment, designed by James Sugden, for Universities. The A21 was the first amplifier to be put into production and was originally branded for a well known local loudspeaker company called Richard Allan.
The A21 was the worlds' first production pure class A transistor amplifier and a great success.
Almost all the manufacturing processes were carried out at the new Sugden factory. These included cases, building circuit boards and final assembly of each item all by hand. The Cleckheaton factory saw the development of many new products including the A48 integrated amplifier and C51/P51 pre and power amplifier. There were also three analogue radio tuners and a full set of audio test equipment.
Sugden Audio products are designed and built in their factory in Heckmondwike in Yorkshire, a short distance from where it all began. Sugden still manufacture in the same tradition with each Sugden product being handmade by a single highly skilled team member. Sugden remains in control of the full manufacturing process from design to despatch, they operate their own custom engineering shop and assembly, screen printing and a cabinet making facility or their loudspeakers.
Sugden products are a truly handmade quality British product.
Sugden Masterclass ANV-50 Integrated Amplifier - On demonstration now!
The Masterclass ANV-50 is a new amplifier released to celebrate Sugden Audio's fiftieth anniversary.
It is a unique design with many innovative features and specially developed audio circuits.
​In 1967 Sugden released the world's first solid state pure class A amplifier, the A21. The ANV-50 promises to revisit this golden age of British audio engineering, with a design focused on the demands and preferences of today's audio enthusiast and music lover.
​The ANV-50 has at its heart, the purest class A amplifier Sugden Audio has ever produced and this is coupled to an advanced 'ideal' final output stage. This unique two stage amplification system guarantees our signature pure class A sound, with the ability to drive most loudspeaker systems.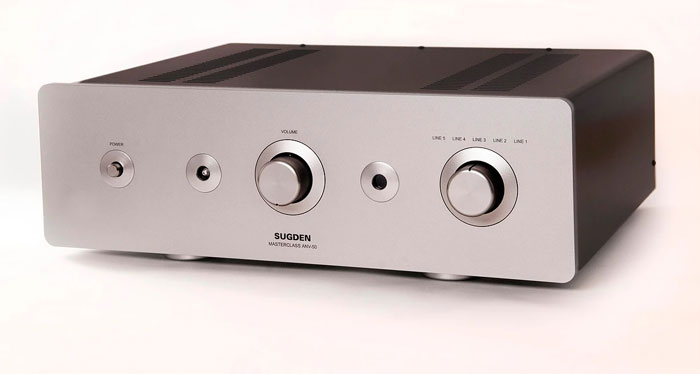 Sugden Sapphire DAP-800 Digital Analogue Pre-Amplifier
The Sugden DAP-800 can be the control centre of your audio system with its six analogue inputs and six digital inputs as well as two single ended and one balanced output.
Sugden use independent power supplies throughout so in effect there is a separate DAC and analogue pre-amp housed in a single chassis - perfect for both the DAP-800's analogue and digital domains.
The pre amplifiers' analogue stage incorporates a Sugden VCV circuit in its most advanced form. This circuit has a high impedance input section, current gain stage which drives a folded cascode stage into a Class A output stage. This delivers a sophisticated sound that is neutral and transparent.
The digital section of the DAP-800 incorporates the same unique digital to analogue conversion as Sugden's stand alone DAC-4. Sugdens experience in designing digital products now stretches over twenty five years and they pride themselves on the analogue natural sound they have achieved. The DAP-800 has a number of advanced features. To reduce jitter and control errors during play back there is a dedicated transceiver circuit, this re-formats data prior to the digital to analogue converter. A unique conversion method is employed without oversampling or filtering in the digital domain, instead the designers chose an analogue filter resulting in very wide bandwidth capability.
The interface accepts most digital formats including a 'plug and play' USB input for streaming music directly from a computer or dedicated music streamer.
Sugden Sapphire FBA-800 Pure Class A Power Amplifier
The FBA-800 is Sugdens most advanced power amplifier. It's floating bridge design combines four 20 Watt amplifiers in a single stereo chassis and provides several key benefits.
Each channel consists of two amplifiers working as voltage amplifiers driving an output stage of bridged power transistors. The advantages are a low noise floor, better power output relative to the voltage rails (x2) and with the fixed current of the class A mode, low output impedance and better load tolerance.
The Power amplifier is D.C. coupled, with a servo lock, ensuring excellent low frequency detail and for safety purposes the amplifier includes a D.C. protection circuit which is statically switched using extremely low impedance Mosfet switching devices, this same circuit also soft switches the power amp on and off.
The FBA-800's power supply is a low impedance design with a single custom made bi-filar wound transformer, with four separate winding's. The main smoothing capacitors for the output stage are specially developed for professional audio applications with excellent ripple characteristics and long life.
The Four power transistors per channel in the output stages are multi emitter devices with an output capability of 26 amps per device. The FBA-800 operates in the full balanced mode from the input of the unit to the output.
Sugden A21 Signature Integrated Amplifier
The Sugden Signature Series pure class A design provides affordable high-end performance from a beautifully engineered single box integrated amplifier.
Compact in size with a simple but stylish design, the A21 is possibly the only amplifier you will ever need, until it's upgrade time of course!
With many of the original Sugden A21's still in daily use after fifty years, it could also last a life time.
Providing a large sound stage and depth to all types of music, the A21 is an amplifier you can listen to for hours without fatigue, its single ended circuit provides impressive dynamics and incredible bass.
The A21 is available with or without a phono stage.
Sugden A21SE Signature Integrated Amplifier
The special edition A21SE integrated amplifier builds on the strengths of the classic A21.
Offering pure class A single ended operation, the sound remains distinctively 'Sugden'.
Upgraded with a fifty percent larger power supply and increased power output, dynamics are even more impressive, the sophisticated pre-amplifier stage is another improvement on the A21 which provides greater clarity without added brightness producing crystal clear highs.
The larger power supply provides greater control over a wider range of loudspeakers and improved micro dynamics for low level listening.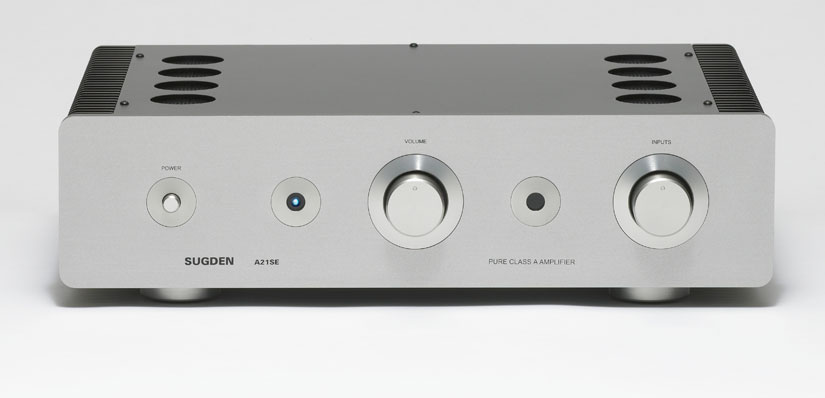 Sugden Masterclass IA-4 Integrated Amplifier
IA-4 is Sugden's flagship and most popular integrated amplifier.
Weighing a substantial 20 kilos the IA-4 has a purposeful look and impressive build quality with plenty of input and output facilities including a high quality phono stage.
The class A power output circuit has been upgraded from the A21 series with a larger power supply and improved soothing and output capacitors, gold plated circuit boards, full relay switching and a precision input selector switch offer further detailing.
The pre-amplifier section of the IA-4 is a bespoke design, with surprising clarity and detail resulting in the ability to create a large performance with depth and height on any type of music.
Sugden Masterclass LA-4 Line Pre-amplifier
The Sugden LA-4 is  a high quality active pre-amplifier featuring a host of inputs and outputs and makes a perfect combo with either the Masterclass or Sapphire power amplifiers.
High-end touches include gold plated circuit boards, relay switching of all inputs and output and a sophisticated class A output stage.
The LA-4 is a high gain amplifier that provides an iron fist of control over any power amplifier.
The electronic circuitry has been developed to offer the best possible sonic performance without compromise including the use of specially selected transistors and capacitors to provide the best signal preservation.
The gain stages are each powered by current shunt differential power supplies, which enable the fastest transients and most powerful crescendos with true musical empathy.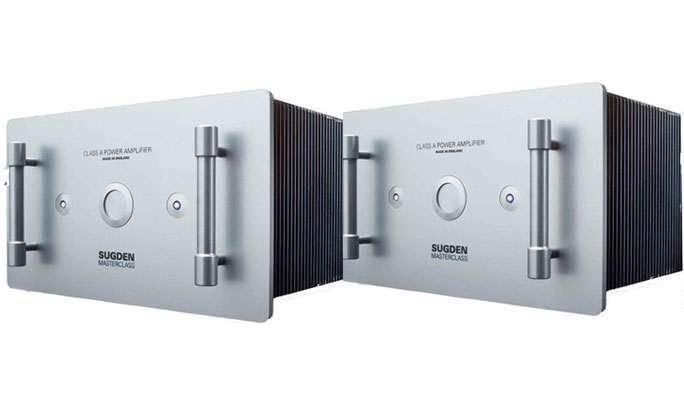 Sugden Masterclass MPA-4 Mono Power Amplifier
The popularity of the Masterclass series has resulted in over seventeen years of continuous production offering an excellent price/performance ratio it is easy to hear why it remains so successful.
With an abundance of headroom, the MPA-4 mono power amplifiers deal easily with heavy complex music, allowing the low level detail to be heard clearly and accurately.
Boasting a fully balanced circuit design, it can be the engine room of a fully balanced hi fi system.
Sugden Masterclass SPA-4 Stereo Power Amplifier
The popularity of the Masterclass series has resulted in over seventeen years of continuous production, offering an excellent price/performance ratio it is easy to hear why it remains so successful.
The SPA-4 is a stereo version of the MPA-4  mono power amplifier and uses the same class A circuit. The only differences are power output and the additional flexibility of both single ended and balanced inputs.
Not every music lover can accommodate two substantial power amplifiers in their listen space, so a single SPA-4 could be the solution. One of the noticeable abilities of the SPA-4 is how well it works with smaller loudspeaker designs as well as large ones.
Control and sound stage are two key elements of the SPA-4 making it a fine power amplifier.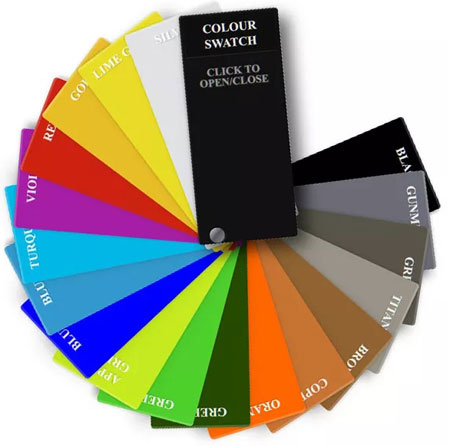 Fancy some colour in your life?.....
Sugden have their own engineering department so they can offer a range of bespoke front panel finishes.
Not only can front panels be customised, but also control knobs, bezels, buttons and LED lights.
If you have a colour scheme for your listening room why not get Sugden equipment to match, design a totally unique Sugden product that is as individual as you are.
To get a unique personally designed Sugden product, contact us and let your imagination run riot!
(There is a small extra charge for this service and delivery times will also be extended).