Luxman Corporation
Luxman were founded way back in 1925 at the birth of radio broadcasting.
Since then Luxman have continued to make a range of audio equipment to suit both the music enthusiast and audio fan alike - producing some of the most technically advanced and sonically proficient Japanese audio components available.
The Luxman Corporation is still in business today  - making them one of the longest standing audio manufacturers in existence.
As always - Luxman products are in great demand and as a result there may be a small delay in delivery of brand new product so please do contact us for our very best price and we will do our best to get your new Luxman amplifier to you as quick as possible!
Luxman L-505UxII Integrated Amplifier
---
The L-505uXII is the eagerly awaited Mark II version of the popular L-505uX that has been at the forefront of pre-amplifier design since it's launch in 2011.
Incorporating an abundance of proprietary technologies, such as Luxman's Version 4.0 ODNF (Only Distortion Negative Feedback), as well as LECUA (Luxman Electronically Controlled Ultimate Attenuator), this product is a truly multifunctional integrated amplifier.
As Luxman's latest high-end model, the L-505uXII continues the evolution of the L-505 series, which has attracted many fans of audio quality and earned a great reputation.
As an amplifier which exudes sophistication and authenticity beyond its class, the L-505uXII represents the latest in a long line of exemplary models.
Luxman L-507z Integrated Amplifier
---
Introducing a radical re-design, the L-507z replaces the L-590 and L-507uXII models.
This is the second model that uses LIFES, following the flagship power amplifier "M-10X" announced by the company in August.
As the first of the Z series equipped with a new amplifier circuit, Luxman explained, it is a model that "further enhances the perfection as an integrated amplifier circuit as well as sound quality" other than functionality.
LIFES is an abbreviation for Luxman Integrated Feedback Engine System.
While inheriting the conventional concept of ODNF circuit that "feedback only the distortion component detected by the difference between output and input".
This results in spectacularly low levels of distortion on the outputs which contributes to the open, clean and musical sound of this new integrated amplifer.
Luxman L-509x
---
The L-509X integrates the features of both a high quality separate amplifier and a high performance integrated amplifier into one product.
The goal of creating an ideal integrated amplifier, initiated by Luxman with the launch of the L-509fSE in 2002, has now been advanced with the development of the L-509X.
The L-509X integrated amplifier is equipped with many desirable features, such as the New LECUA1000 and a discretely configured buffer circuit in the output stage of the pre-amplifier circuit.
Luxman's ODNF (Only Distortion Negative Feedback) original amplifier feedback circuit and a power supply with independent left and right channel blocking capacitors are intrinsic to this design, as well as many components used only in high end models, ensuring high-quality audio reproduction.
The design of the L-509X incorporates the cream of Luxman's proprietary technologies, breaking new ground and creating the ultimate expression of "separates in a single unit".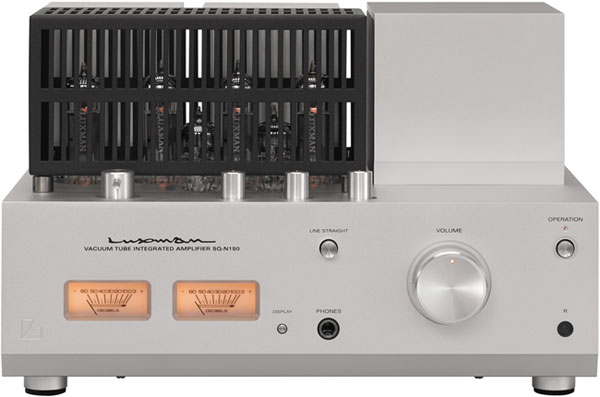 Luxman SQ-N150 Integrated Tube Amplifier
---
In the 1960s, when the audio industry moved en masse into transistor amplifiers, Luxman stood apart.
Luxman recognized the ineffable beauty of vacuum tube audio, and have continued to build tube components without interruption.
Part of Luxman's NeoClassico II Series, the SQ-N150 is the latest heir to that proud tradition, delivering music reproduction of exceptional warmth and clarity.
The SQ-N150 provides three line inputs and a phono section that accommodates both moving magnet and moving coil cartridges, so you don't need to purchase a separate MC preamp.
Luxman plated the RCA jacks in gold and pitched them at 18 mm to accommodate high-end cables.
For minimum crosstalk between left and right channels, Luxman used the same input selector IC as on our top-of-the-line C-900u control amplifier.
For ultimate sonic purity, the Line Straight mode can bypass the Bass, Treble and Balance controls.
Luxman LX-380 Integrated Tube Amplifier
---
The LX-380 represents a new era in golden '38' series vacuum tube integrated amplifiers from Luxman.
Providing an exceptionally deep resonance of sound sources of various ages and genres, the LX-380 combines LECUA* - a computerized attenuator which carefully reproduces the dynamism of each performance - with a power amplifier circuit that expresses the rich musicality of the 6L6GC output tube.
Housed in a wooden case that is reminiscent of the 28 series, the LX-380 appeals to a new generation with a winning combination of cutting edge technology and traditional know-how.
*LECUA is an abbreviation of Luxman Electric Controlled Ultimate Attenuator.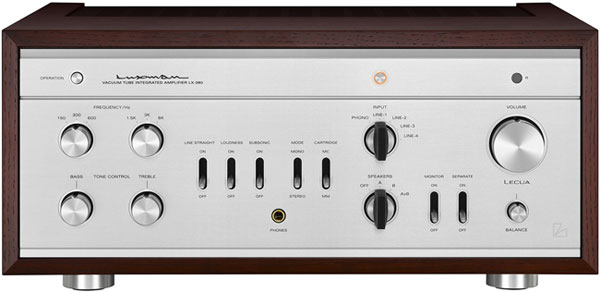 Luxman M-X10 Power Amplifier
---
New for 2022 - details to follow shortly...
Luxman MQ-88uC Tube Power Amplifier
---
The MQ-88uC has an elegant dark brown finish, realizing a modern classical appearance reminiscent of Luxman's finest legacy products.
This model's improved clarity and warm, accurate audio reproduction, unique to vacuum tube products, and the quality of the components and engineering shine through.
Since the launch of the SQ-5A vacuum tube integrated amplifier in 1961, Luxman have continued making vacuum tube amps without a break.
They have produced many models that are highly valued as signature models and satisfied music lovers are enjoying them to this day, even several decades after their release.
The CL-38uC and MQ-88uC combine LUXMAN's history of producing fine vacuum tube products and the traditional wisdom and skills gained along the way.
Luxman CL-38uC Tube Control Amplifier
---
The CL-38uC uses SRPP (Shunt Regulated Push Pull) circuitry for all stages to achieve the highest sound quality possible.
A genuine phono equalizer is included, the MC-low and MC-high impedance (gain) inputs each have independent MC transformers and are selectable using the MC impedance lever switch.
Tone controls enable the listener to fine tune the sound quality.
The refined exterior design and newly added balanced inputs make this vacuum tube control amp a new standard for its generation.