Almost Summer Newsletter 2019
brianandtrevors almost summer newsletter 2019
---
The North West Audio Show: June 29th – June 30th
Come and see us and catch up on what's new in music and systems. We really enjoy meeting and talking to everyone who visit our room, so come along to this super audio show – now the UK's second largest audio show!
Visit us in the Mercer Room, where you can also book a subsequent personal audition with us at brianandtrevors or House of Linn.
---
Kudos Audio Evening @ House of Linn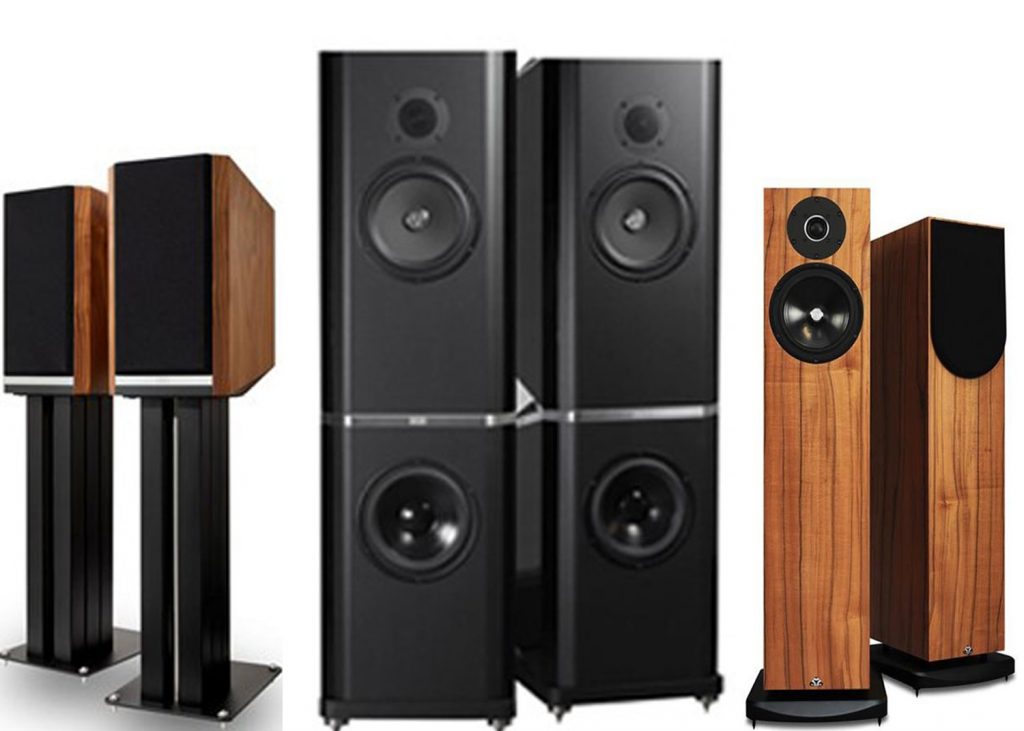 ---
Roy Coulson Presents mYtunes! @ brianandtrevors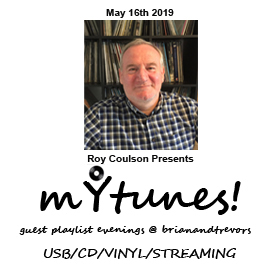 For our second mYtunes! playlist evening on May 16th, we were delighted to have Roy Coulson present his favourire tracks from his vinyl collection played through a Linn/Naim/Kudos system.
To quote Roy: " Having the opportunity to play your personal record choices to an audience, on a high spec system is right up there in the category, 'Great ways to spend an evening'. Much appreciated. Already looking forward to next mYtunes in July."
Contact us to guest-present your curated 14 track playlist at one of our future mYtunes evenings, and let us know here.
---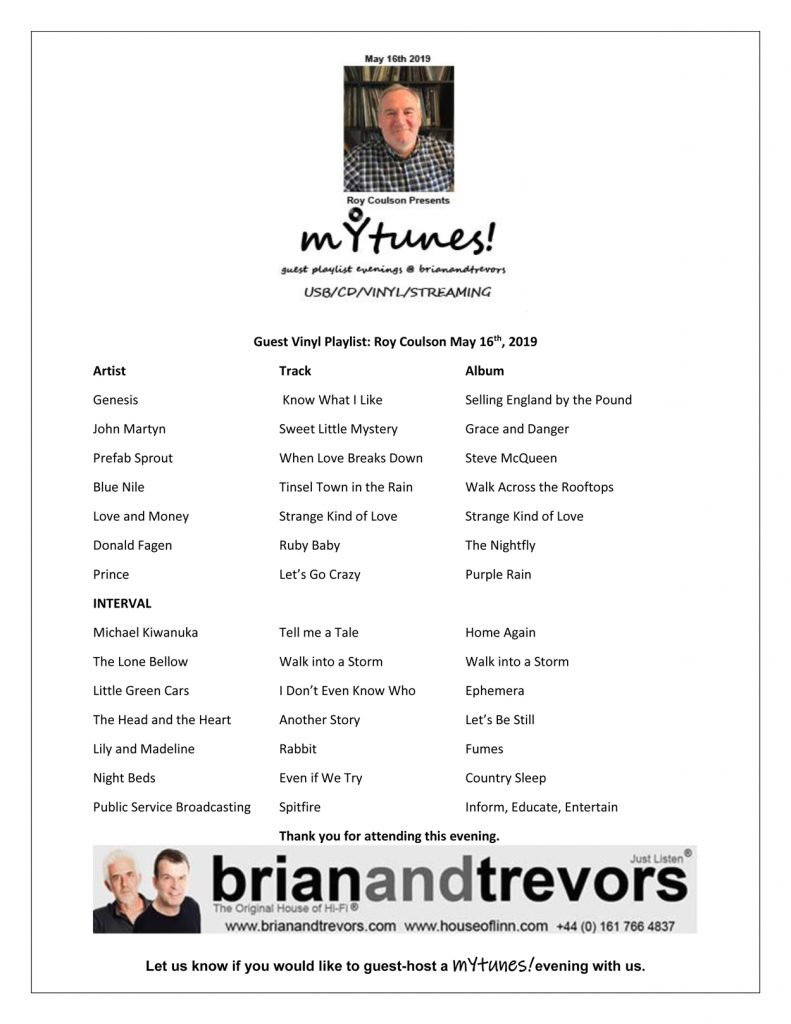 Curating 14 favourite personal tracks from a lifetime of listening to music and buying records is not easy, but is a satisfying process as evidenced by Roy's presentation, sharing his music, artists and tracks that resonate, as well as learning about Roy's experience during his hi-fi system journey. Thank you so much Roy, for an interesting, enjoyable and entertaining evening.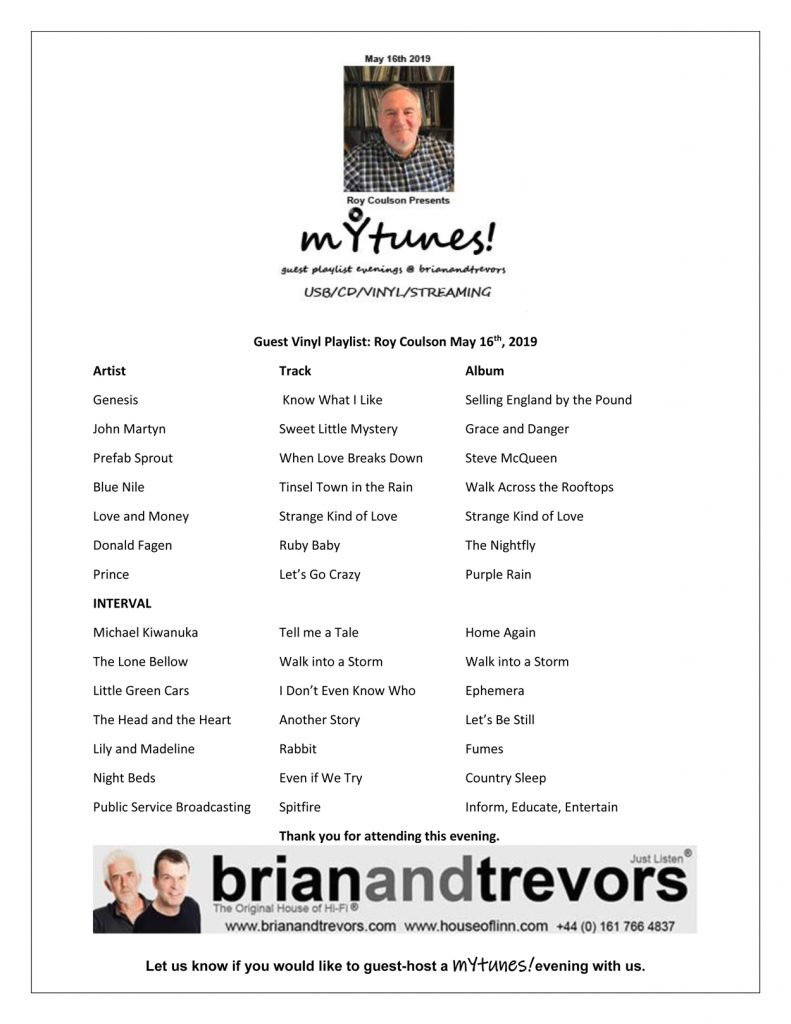 ---
A Linn/Naim/Kudos System for Roy Coulson's mYtunes!
---
mYtunes! July 4 with Clive Gidney @ brianandtrevors
Our next mYtunes! is on July 4 and as usual, mYtunes! is a personal playlist evening created, curated and presented by music lovers for music lovers.
This time, we are pleased to welcome to brianandtrevors, Clive Gidney: music lover, audiophile, photographer, DJ and dance instructor.
Click here to register your attendance and we will get back to you.
---
An Evening with The Chord Company @ brianandtrevors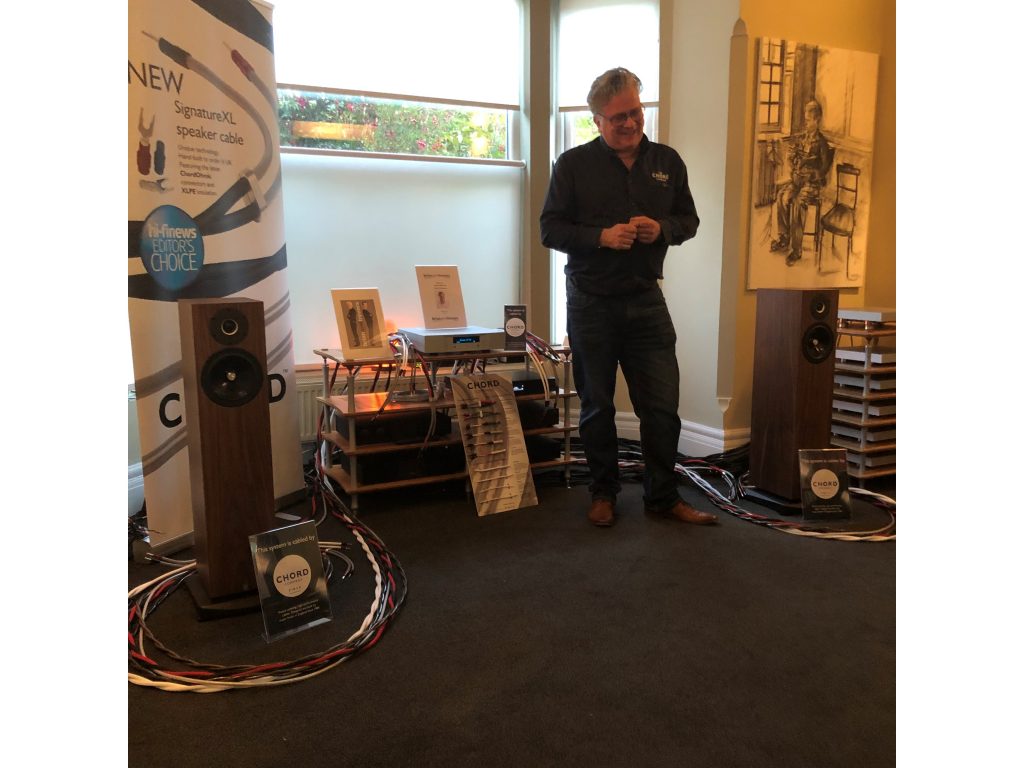 For our fifth event this year on May 23rd, we were pleased to welcome The Chord Company for an evening designed to take us through the upgrade path with improved versions of Shawline, Epic and Signature loudspeaker cables, presented by the Chord Company's Patrick Mitchell.
We have been fans of the performance offered by the Chord cable range for some time, however, other than Chord presentations in our room at the annual North West Audio Show, we had not yet hosted a more informal event at the house.
So we were extremely pleased to offer this special evening presentation by Patrick Mitchell from The Chord Company, who delivered his recent Bristol Show presentation featuring new developments within the Chord cable range.
Specifically, improved versions of Shawline, Epic and Signature loudspeaker cables.
Notably, even Chord's affordable Shawline option has just got even better!
---
Need a New Music System?
We invest our time, knowledge and expertise to help you undertand the right approach to creating and demonstrating a system right for you.
Make an appointment with us and discover how good your music collection can actually sound.
For all Linn and Naim owners, there are always upgrades worth enquiring with us about – we offer performance upgrades and servicing for the Linn LP12 and Linn Exakt systems.
Naim are offering 10% discount until July 15th on certain Naim Classic and Uniti upgradeable products.
---
Don't Be Strangers!
Our business location has been used almost annually since 2011 by Red Productions for filming the TV series Scott and Bailey. This time, Red Productions are shooting new episodes for the Netflix series Strangers, starring the lovely Jennifer Saunders, filming began in late May outside brianandtrevors and House of Linn. We even discovered that some of the production crew are keen audiophiles and we invited them in for a listen.