The Shawline analogue cables use the Chord's Tuned ARAY conductor geometry to produce a ground breaking cable. All Tuned ARAY cables have an extraordinary degree of musical transparency and the Shawline Analogue transforms the performance of the new breed of DACs, CD players and Streamers that deliver so much performance at very affordable prices.
The challenge with producing the Shawline Analogue is that all Tuned ARAY cables require a high degree of precision that can only be achieved with painstaking hand assembly. The Shawline is built from PTFE insulated silver-plated conductors and use a composite shielding material that works over a wide bandwidth and also reduces mechanical noise. The cable is assembled within a flexible plastic tube chosen to further reduce mechanical noise and a protective outer braid is fitted.
As with all Chord cables - pretty much any quality connector combinations are available at a length to suit, just let us know what you require and we will get back to you!
Shawline Analogue RCA cables use the same conductor geometry as the award winning Sarum Tuned ARAY, giving them a musical transparency and coherence, transforming the performance of DACs, CD players and Streamers.
Chord Company Tuned ARAY cables continue to be popular with Naim Audio users. The musical transparency, extraordinary reduction of interference and lack of noise meant Naim users heard just how good their systems were.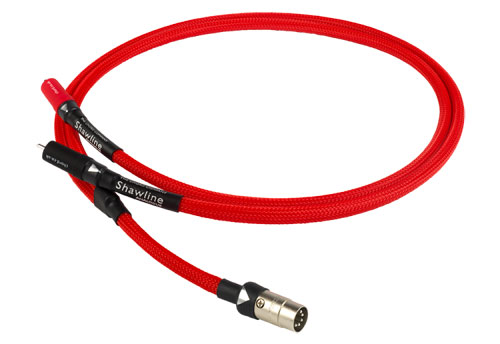 Shawline Analogue subwoofer cable
Designed to complement the Shawline range and enhance any music/TV/movie/game surround system. Available in 3m, 5m and custom lengths/terminations to suit any subwoofer.
All Tuned ARAY cables require a high degree of precision, only achieved with painstaking hand assembly.  An upside of this process, is that it allows Chord to add the extra conductors needed to build an exceptional XLR cable.
Shawline Digital RCA and BNC
Digital cables are not all the same and it doesn't take much listening to hear that. Detail is great but it is pointless hearing everything the bass and drums are doing if they're not doing it together.  The Shawline Digital brings coherence and detail together.
Shawline Digital USB cable
A decent laptop dedicated to your music collection and a good USB DAC can be a valid and affordable source,  especially if you're prepared to sit down and experiment with dedicated cables to connect the two together - like the Shawline USB.
Shawline Streaming digital audio interconnect
Designed to offer the very best musical performance and affordability from streaming audio systems.  Available in 0.75m, 1.5m and 5m standard lengths. Custom lengths to order.
Shawline speaker cable uses the same silver-plated conductors, PTFE insulation and twisted pair configuration as Chord Rumour, but enhanced with PVC internal jacket to reduce mechanical noise and the same high density dual-layer shielding as Chord use on their Epic speaker cable.
Chord Ohmic or spade connector options.