In 1959 Alastair Robertson-Aikman, the Company's founder, required a pick-up arm for his own use and an experimental model was built. It received such an enthusiastic reception from friends in the sound industry that it was decided to produce it commercially and the first SME precision pick-up arm appeared in September 1959.
Today SME are still manufacturing high-end, precision-made audio equipment and high-quality precision made components for Aerospace, Formula 1, and Medical Equipment industries..
Based on the multi-award winning Series V pick-up arm, the Series V-12 incorporates the same design and engineering that have made SME a byword for excellence.
Coherent musical control is held over the entire frequency range in terms of tonal quality, stability and stereo imaging. Startling dynamic range, neutrality, structurally inert, the Series V-12 embodies every worthwhile feature in a pick-up arm.
The 12 inch tone-arm is pressure die-cast in magnesium complete with an Integrated headshell to eliminate tone-arm resonances in the audio spectrum and offers a 27% reduction in maximum angular error distortion over 9 inch models. When listening the benefits of minimal tracking error and harmonic distortion are clearly revealed.
SME engineers, recognising the potential of the latest complementary equipment, accepted the challenge to design and build a pick-up arm which unlike others in existence would make no detectable sound contribution of its own.
The work took almost four years and the measure of its success is the acceptance of the Series V precision pick-up arm by technical experts and users as one of the world's truly great audio products.
Series V sound has an almost startling dynamic range and neutrality enabling high levels to be enjoyed. It escapes the 'LP' sound and demonstrates that structural resonances in pick-up arms are responsible for much that makes vinyl records readily discernible from master tapes.
The Series IV precision pick-up arm owes much to the technology developed for the acclaimed Series V.
Although presented at a lower price it retains the unique one-piece magnesium tone-arm, dual-lock base and other advanced features listed.
The Series IV is a worthy relative of 'the best pick-up arm in the world' with a sonic performance reflecting the care and attention to detail underlying its design and manufacture.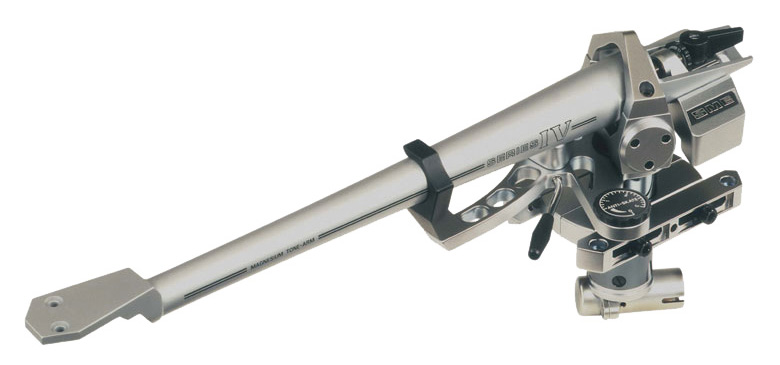 The Model 312S precision pick-up arm is an extension of the popular Series 300 range designed with maximising performance and ease of use in mind.
It has a detachable magnesium headshell to provide the convenience of rapid cartridge interchange whilst maintaining a degree of rigidity normally only associated with arms of one piece design.
The 12 inch magnesium construction takes advantage of the reduction in Maximum tracking error/distortion afforded by the greater arm length when compared with 9 inch models.
The Series 300 broadens the application of SME technology. A one piece magnesium tone arm, available as Model 309 and Model 310.
The detachable magnesium headshell has a new style coupling, providing the convenience of rapid cartridge interchange without loss of rigidity.
SME designers can be justly proud of these models which offer a performance and manufacturing excellence unmatched by many more expensive models.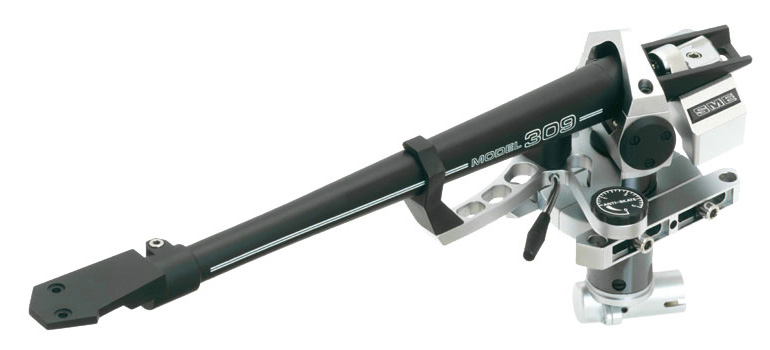 The Model M2-12R precision pick-up arm is an extension of SME's popular Series M2 range offering optimum cartridge choice with minimal tracking error and harmonic distortion associated with a 12 inch arm.
Providing classic looks and meticulous build quality, this arm offers all the most important features, traditional 'J' shaped tone-arm, detachable S2-R aluminium headshell with azimuth adjustment, two stage tungsten counterbalance system, superb quality ball race bearings and a level of rigidity to suit all types of cartridge.
The Model M2-9R precision pick up arm developed, by popular demand, from the Model M2-12R offers the design and engineering excellence associated with SME Ltd in a more compact package.
As a member of the M2 family this arm is built by enthusiasts for enthusiasts and among its extensive features are included: Vertical and horizontal tracking adjustment, Tungsten balance weights housed in satin chromed brass sleeves.
Double draw-pin detachable headshell with azimuth adjustment and height adjustment by thumb wheel enabling its use with wide range of both cartridges and turntables.
The Series M2 embraces three models the M2-9, M2-10 and M2-12 offering pivot-stylus dimensions covering virtually all turntable requirements.
These arms offer at reasonable cost, meticulous build quality with all the most important features including lightweight stainless steel tonearm, detachable magnesium headshell with azimuth adjustment, tungsten balance weight, superb quality ball race bearings etc., and a level of stiffness and rigidity to suit all types of cartridge.
These precision pick-up arms embody well tried SME principles and are suited to a broad range of cartridges including those of medium and low compliance.