Hana E Elliptical Stylus Moving Coil Cartridge
£409.00
All our orders are supplied 'Factory Fresh' – we aim to be in touch with expected delivery date within 2 days of purchase.
Free shipping.
Description
The Hana E cartridge is a low cost, high performance, moving Coil cartridge with elliptical stylus available with a low or high output level.
The Hana E cartridge has a synthetic Elliptical diamond stylus fitted to a high rigidity aluminum cantilever with cross-shaped armature, offering super transparency and excellent trackability.
The body is manufactured from a composite low resonance plastic material in dark green.
Hana EL is the low output option whereas the EH model is high output – be sure to select the correct output for your requirements.
Hana do not re-tip cartridges when they are worn out, to ensure consistant performance Hana recommend replacement with a new cartridge which Hana offer at 80% of the current retail price, if you have an old Hana to tradein please contact us directly.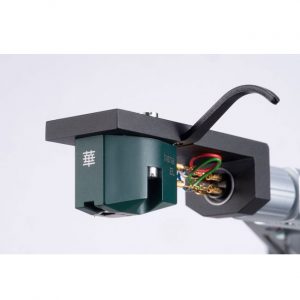 HANA EL SPECIFICATIONS:
Stylus Profile: Elliptical
Cantilever: Aluminum
Output Level @ 1kHz: 0.5mV
Output Balance @ 1kHz: Less Than 2dB
Vertical Tracking Force: 2 grams
Trackability: 70 um/2 grams
Separation @ 1kHz: 25 dB
Frequency Response: 15-25,000 Hz
Impedance @ 1 kHz: 30 Ohms
Suggested Load: 400 Omms
Cartridge Weight: 5 Grams
Body Color: Moss Green
HANA EH SPECIFICATIONS:
Stylus Profile: Elliptical
Cantilever: Aluminum
Output Level @ 1kHz: 2.0mV
Output Balance @ 1kHz: Less Than 2dB
Vertical Tracking Force: 2 grams
Trackability: 70 um/2 grams
Separation @ 1kHz: 25 dB
Frequency Response: 15-25,000 Hz
Impedance @ 1 kHz: 130 Ohms
Suggested Load: 47 K Omms
Cartridge Weight: 5 Grams
Body Color: Moss Green
Additional information
| | |
| --- | --- |
| Output Level | Low Output, High Output |