Hana S Shibata Stylus Moving Coil Cartridge
£629.00
All our orders are supplied 'Factory Fresh' – we aim to be in touch with expected delivery date within 2 days of purchase.
Free shipping.
Description
The Hana S cartridge is the second model in the hana range offering low cost, high performance Moving Coil performance with a nude natural diamond Shibata-stylus.
The Hana S cartridge has a nude natural diamond Shibata-stylus, capable of excellent high frequency response, and use high rigidity aluminum cantilevers with cross-shaped armatures offering supreme transparency and excellent trackability.
The body is manufactured from a composite low resonance plastic material in black.
Hana SL is the low output option whereas the SH model is high output so please be sure to select the correct output for your requirements.
Hana do not re-tip cartridges when they are worn out, to ensure consistant performance Hana recommend replacement with a new cartridge which Hana offer at 80% of the current retail price, if you have an old Hana to tradein please contact us directly.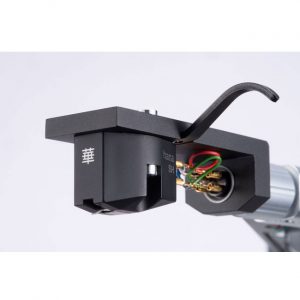 HANA SL SPECIFICATIONS:
Stylus Profile: Natural Diamond Shibata
Cantilever: Aluminum
Output Level @ 1kHz: 0.5mV
Output Balance @ 1kHz: Less Than 1.5dB
Vertical Tracking Force: 2 grams
Trackability: 70 um/2 grams
Separation @ 1kHz: 28 dB
Frequency Response: 15-32,000 Hz
Impedance @ 1 kHz: 30 Ohms
Suggested Load: 400 Omms
Cartridge Weight: 5 Grams
Body Color: Black
HANA SH SPECIFICATIONS:
Stylus Profile: Natural Diamond Shibata
Cantilever: Aluminum
Output Level @ 1kHz: 2.0mV
Output Balance @ 1kHz: Less Than 1.5dB
Vertical Tracking Force: 2 grams
Trackability: 70 um/2 grams
Separation @ 1kHz: 28 dB
Frequency Response: 15-32,000 Hz
Impedance @ 1 kHz: 130 Ohms
Suggested Load: 47 K Omms
Cartridge Weight: 5 Grams
Body Color: Black
Additional information
| | |
| --- | --- |
| Output Level | Low Output, High Output |